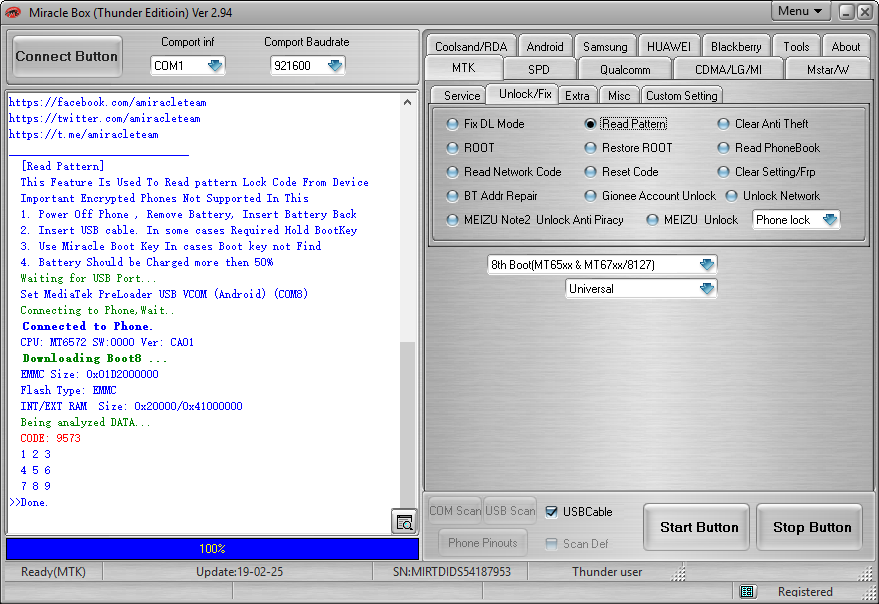 Miracle Thunder Edition v2.94 Cracked without Dongle & Box Using Free
Big Thunder Power Released
Miracle gives more power to you with every new updates.
World's Only in Miracle
Number 1 Tool for China Mobile
Connect Auto CPU
Connect Model Wise
Note:MIRACLE Box & Miracle Thunder V2.94
MTK Improve Factory Reset.
Qualcomm Improve Factory Reset.
Fix Some Models DA and Loaders Revised.
Update Firmware.
Add Phone Modle Search Function.
Add MEIZU 8X Factory Reset Supported.
Fix Some Bugs & Improvements.
Add MTK & Qualcomm, SPF Add News 200+ Models Added.
New Model Added In
4GOOD Light A103
Archos AC101ENEV2
AZUMI IRO A55Q
AZUMI IRO A55Q
Azumi Kirei A5D
Boost Power
BQ Aquaris M8
Brondi 620 SZ
CELKON Milenia Everest
CELKON Milenia Hero
CELKON Milenia Spark
CELKON Milenia Star
CELKON Milenia Xpress
Cell C FAME
Cell C Fantasy
Cell C Fantsy
Cell C Jewel
Cell C Jewel
CELL C Luna
Cell C Titan
Cell C Wiz
CG Eon Blaze Pro
CG Omega 6
CHERRY Flare Lite Quad
CHERRY Flare P1 Lite
CHERRY Flare P1 Mini
CHERRY Flare S5 Mini
Cherry Mobile FB100
Cherry Mobile FB100
CHERRY Omega Lite 2
CHERRY Touch HD
Citrus Essence
Cloudfone Thrill Boost
CONDOR
Condor Allure A8-PGN611
Condor Griffe T7
Condor L1 Plus
CONDOR L2PRO SP-633
CONDOR L2PRO SP-633
Condor SP-531
Condor TB802L
Condor TFX712G
CONDOR TGW-102L
CONDOR TGW-801G
COOLPAD Mega 4A
COOLPAD Mega 5A
COOLPAD TIPTOP N2M
DEXP M445
DEXP M545
DEXP MS250
DEXP MS450
DEXP MS650
DEXP P140
Ding Ding X11
DISCOVER P10 PLUS
Doogee X10s
DOOPRO P1
Ergo F500
eSTAR GO
EVERCOSS R70
EVERCOSS R70 A
Evertek V5 Plus
EXP M240
FAMOUS FONES 5
FERO L100
FERO Mega
FLY FS516
FLY FS517
FLY FS521
FLY FS524
FLY FS528
FLY FS529
Greentel G9
Greentel Xmini
Hafury Mix
HERRY Flare Lite 2
Highscreen Easy Power Pro
HISENSE T963
HISENSE U601
HISENSE U601S
HISENSE U962
Hotwav Venus R10
Hotwav Venus R9
Hurricane Beam
Hurricane Flex
Hurricane Infinity
Hurricane Lynx
Hurricane Onyx
Hurricane Pulse
Hurricane Sage
Hurricane Swirl
Hurricane Ultra
Hurricane Vega
Hurricane Vegas
Hurricane VIBE
Hurricane Wave
Infinix Note 5 (X604)
INFOCUS A2
INJOO Halo X
INJOO i3
INJOO i4
INTEX Cloud 4G Smart
INTEX Cloud M5 II
INTEX Cloud Matte
INTEX Cloud Scan FP
INTEX Cloud String HD
INTEX Elyt Dual
INTEX Indie 22
INTEX Indie 44
INTEX Indie 6
INTEX Staari 11
IRBIS SP43
IRBIS TZ185
IRBIS TZ44
IRBIS TZ55
IRBIS TZ716
IRBIS TZ725
Itel A14
Itel A14s
Itel A16
Itel A16 Plus
Itel A22
Itel A23
Itel A42 Plus
Itel A45
Itel A62
Itel A62_1
Itel P13 Plus
Itel S13
Itel S33
iVooMi Me 5
Jinga Pass Plus
KARBONN Aura Power 4G
KARBONN K9 SMART YUVA
KARBONN Platinum P9
Kiano Elegance 5.1
Klite Touchy F2
LAVA A55
LAVA Iris 51
Lava X11
Lava X28+
LAVA X41+
LAVA X50
LAVA Z60s
Lava Z91W
LEAGOO Z6 Mini
LEAGOO Z7
MEDIACOM Phonepad Duo
Mint M4CR
Mint M5CR
MLS IQ1019N
Mobicel Berry 1
Mobicel Ultra
Mobicel V1
Mobicel V4
MOBICEL V4
Mobicel X4
MOBICEL X4
Neffos X1 Lite
NOA RUGGED Hummer
Nomi i5031
Nomi i5031
Octa EWIS-E43
Oneplus 6T
O-phone Active 5
O-phone Active 5
Optus X Spirit
Optus X Spirit
OWN S4035 3G
Oysters T72HM 3G
PANCO C20
Premio Axe
Premio P620
Prestigio PMT3157
Prestigio PMT3318 3G
Prestigio PSP3423DUO
Qmobile Fire
Qmobile Infinity D
QMobile Noir X1S
Sansui go(S401)
Starlight C Note
StarLight Diamond X
SYMPHONY V155
TCL 5011A
TCL 5011A
Tecno Camon I 2X ID5B
Tecno Fero Pace 2
Tecno Fero Pace 2 Lite
Tecno KA7
Tecno LA7 H393A-O
Tecno Pouvoir 2
TIMMY ZOPO F2
TOUCHMATE TM-MID798
TP-LINK TP910A
Umax VisionBook P55 LTE
VERTEX IMPRESS Tiger
Vestel E3
VODAFONE VFD 320
WE E2
WE T1
Wiko Ufeel
Wileyfox Spark X
WOWI SQ753
XanMobile B19
ZTE CELL C EMPIRE E8
File Name:- Miracle Thunder v2.94 Crack